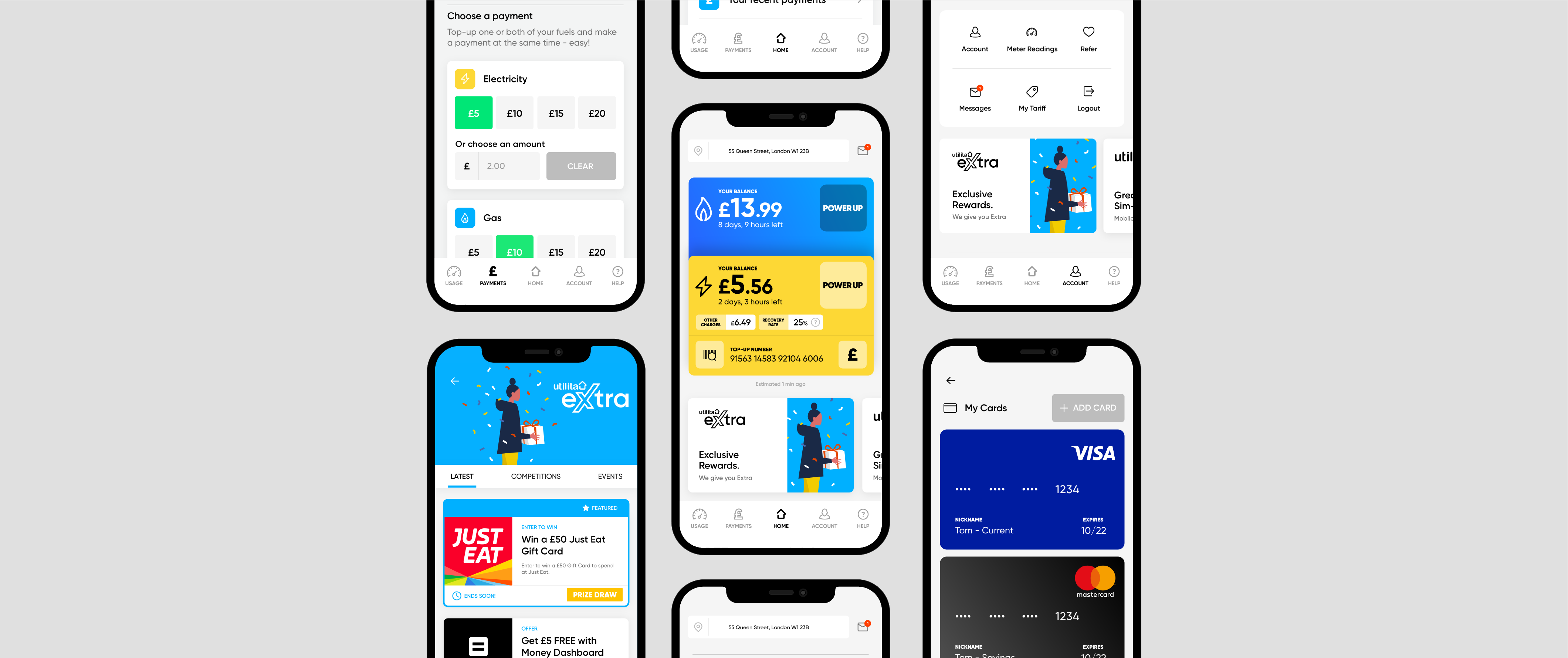 ---
Just as Britain went into the first national lockdown in March, Utilita released a new and updated My Utilita app for both Android and Apple users.
Our existing app, a custom version built by a payment service provider , was nearing the end of its useful life after nearly five years of sterling service and we decided not just to tweak the existing version around the edges but to undertake a ground-up re-write. The process took several months and involved many of our teams: Ops & Call Centre, Marketing, Legal and Compliance, Procurement, HR & Recruitment, IT Support and, by no means least, IT Development.
Driving the development of the new My Utilita app was a desire to help customers make payments more easily, so in 2019 we partnered with global payment platform Visa and its payments management platform Cybersource.
Topping up from £2
One of the key attractions for customers to use the app is that the minimum top-up was reduced from £10 to £2, important when every last penny counts.
The ability to top up more easily from within the app could not have come at a more critical time as the pandemic meant that people were asked to stay at home to help the NHS and save lives.
By early April, we had achieved 100,000 active, unique users in a 30-day period. The top-up functionality was providing particularly popular and we had reached around 18 top-ups per second.
Users were quick to share their delight at the new version and we reached a record rating of 4.8*/5 in the Google Play Store by the end of April, making us the joint number one energy app, with many leaving five-star reviews.
The impact of the new app cannot be underestimated: a year earlier we were averaging around two stars for the previous version of the app and we knew that we needed to do something drastic to improve the mobile experience for our customers.
Reacting to customer feedback
App development is an ongoing process and we regularly engage with our customers who leave reviews and feedback as it is vitally important in making sure the app continues to make users happy.
One of the earliest pieces of feedback we got from the growing number of customers downloading the app was that they wanted the ability to save their payment card details.
We created a technical proof of concept demonstrating this capability ae well as other payment-related functionality such as auto top-ups and we incorporated those updates over the following few weeks. We are constantly looking at ways to improve the app too.
In the months following the launch, we noticed that there was an unusually high number of abandoned payment transactions, as many as one in four.
Our teams spent a lot of time and effort analysing each stage of the process looking at the payment code, the communication with Visa and we were still left scratching our heads as to the cause of the abandonment.
And then the Eureka moment happened. We discovered that the presence and possibly poor placement of a 'back button' in the latter stages of the payment journey was causing customers to take one step back in the payment journey (sometimes by mistake and sometimes consciously to amend the top-up amount).
This was flagged as an abandoned payment even when the customer went on to make a successful top-up. This confusing button was removed, and the problem disappeared.
Another feature we added over the year was Dark Mode for those users who like to turn down the lights a little and, potentially, help them sleep better.
From app store rating to customer rating
We are also making our app smarter.
In June, we added a feature to the app called Smart Score. This lets us interpret customer's usage and produce 'scores' based on their consumption across a variety of categories, such as identifying when customers are leaving their devices on standby. Customers who are being energy efficient get five stars for their efforts.
Using these star ratings, the app shows users bespoke tips on how they may be able to save energy and therefore money. SmartScore includes a visible element where customers can see their half-hourly usage displayed as a graph, so have an instant view on their consumption.
The beginning of August saw another first when we allowed customers to apply for the Warm Home Discount – a £140 payment funded by energy suppliers like Utilita for certain lower income and vulnerable households. This helped the app reach 300,000 active online users in the previous 90 days.
In September, we added even more features under the app's bonnet with the ability for our customers to save towards the higher energy bills that inevitably come in the winter months. Winter Savings wallet helps customers prepare for the colder months by allowing you to save a little extra money and use it to top-up your credit. Signing up also enters customers into a monthly prize draw for £200 top-up credit.
Within seven days of adding the wallet functionality of the app, more than 3,000 people had set savings targets using it.
We also made it possible for new customers to use the app from the moment they agree to switch supplier so they can use it to manage their installation as well as adding a new messaging feature that will eventually become a secure mailbox for our customers.
As the unprecedented year of 2020 came to a close, it was time to retire the old version of the app. The new My Utilita app is now being used by close to 400,000 customers and we are successfully handling an impressive 41 top-ups per second now, keeping Britain's lights on in these dark times.
We're not resting on our laurels. We know that we have to keep adding new features and our teams behind the scenes continue to work hard to make the app experience as smooth as possible. We have a lot more to come from the My Utilita app in 2021.