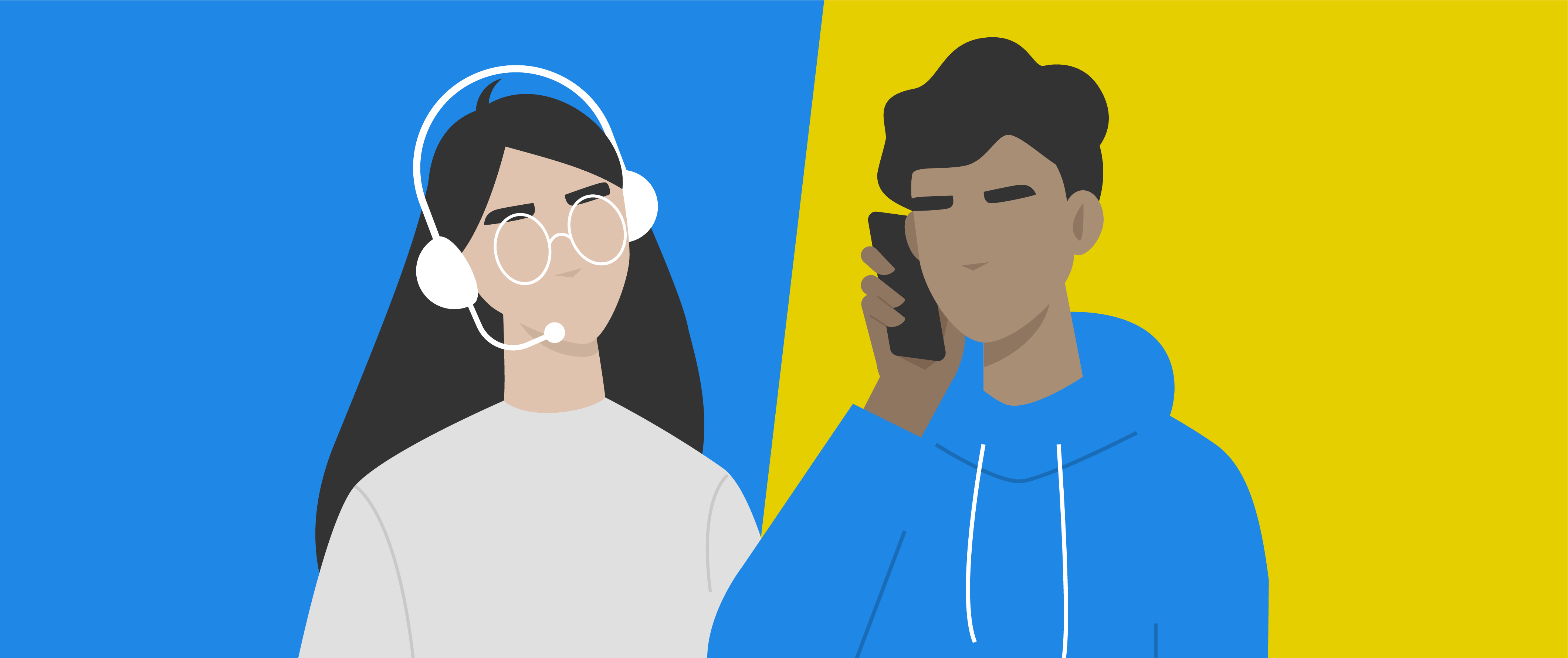 ---
When things go wrong, talking to someone with empathy for your problem can really help.
For some people, calling a contact centre in the past was about as pleasant as having a tooth pulled.
At Utilita we pride ourselves on delivering excellent customer care and we know from looking at what customers say about their experience of speaking with our teams here in the UK and our team in South Africa that their customer journey is overwhelmingly positive. A recent customer satisfaction survey undertaken by the industry regulator, Ofgem, confirmed this. It ranked Utilita 6% above the industry average for customer satisfaction.
Even during the pandemic, we have made sure it is still easy to speak with our contact centre, using technology to allow our agents to work safely from home while handling those all-important calls from our customers. In fact, our call waiting times bucked the industry trend in 2020 – falling 65% year on year.
We love making you happy and we are investing in some very smart technology to help make you even happier – automated call transcription and speech analytics.
Making our customers happy
We already record a small number of our calls to ensure customer satisfaction and to help train our agents. At the moment, we record around one in a hundred of the calls to our contact centre. This technology will allow us to monitor all of our calls to make sure we really are serving our customers' needs.
The purpose of recording calls is not to catch customers out. Far from it. We live and die by our customer service ratings and enhancing the experience when customers call a contact centre is a vital goal for Utilita.
Being able to make an automatic record of what was said on a call can help our agents become more efficient. We need our agents to make detailed notes of what our customers are saying and asking for and their responses to those queries.
Automated note writing will make that process far less time-consuming and make it easier for us to follow up on what we said we would do to resolve any of our customers' problems.
If we said we would do something, this will ensure we do it we will be able to work out that we haven't yet done and remind us we need to do it now.
Speech analytics will be a huge enabler of process and system improvement for Utilita in the near future. It will help our agents become better at keeping our customers happy and can even give them subtle nudges to make them even happier.
Helping us coach our agents
By listening to our agents, we can identify which ones are on hold for longer or tend to have longer gaps in their conversations with customers. We are not designing this to reprimand them but to help coach them to be more efficient.
Ultimately our goal is to coach our contact centre agent live in real time. If our speech analytics technology can tell that the customer is getting agitated and the sentiment is getting worse from what the agent just said, our customer relationship management platform can suggest to the agent that perhaps they could talk about something else likely to delight the customer.
Analysing the tone and pitch of our customers' voices means we can work out what it is that makes you happy and what makes you stay with Utilita.
It helps us be efficient too. Using speech analytics and automatic transcription tools could help us trim every call by 30 seconds to a minute.
Deciphering Britain's accents
You might wonder how good this technology is at recognising speech. Britain has a breath-taking diversity of accents and dialects, with differences of opinion on how to say even basic household items like a bath.
The system we are using recognises 80 to 85 per cent of words out of the box and that is before we trained it using thousands of our calls. This AI-powered marvel learns very quickly, particularly as there are common things people refer to and questions they ask.
This is not about Big Brother surveillance either. What we learn with this smart technology is purely to improve the customer experience. We don't share what we learn from our calls with anyone else.
Adopting speech analytics is about better personalisation of our services. We installed Britain's first smart meter in 2005 and, as a result, we know more about what makes our customers happy than any other supplier.
As we go forwards with our plans for a connected smart network of meters, appliances and Utilita's smart technology, we can use this technology to make suggestions in real-time that will not only help resolve our customers' problems but, vitally, make suggestions that will help save you money.
Who wouldn't be happy about that?